This week is FLYING by. The four day weekend certainly helped.
And the fact that so many people are

"entertaining"

me helps too!
It's Thursday's Writers' Workshop over at Mama Kat's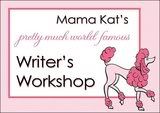 Go on over and take a look around.
Pick a prompt and write away!
Yesterday, I shared an entertaining string of emails with Trammell in Cambodia.
But there's more where

THAT

came from
because I'm easily entertained!
I chose -
2.) Relay an entertaining conversation or string of emails you recently had with someone.
On Tuesday, Brian called at about 11:30 and said,
"Hey, why don't you grab the boys and meet me for some lunch and then we can go look for a TV stand (whole other post!)."
Frankly, with there being no school, I was surprised that the boys were even out of bed.
But luckily they were, because Brian was ready to go AND his office was closer to the restaurant.
I went down into the man cave,
saw the boys settled in at their respective TV's with controllers attached to their thumbs starting a Call of Duty marathon
and delivered this command:
"Hey guys, kill as many people as you can in the next two minutes and then we gotta go to Smashburger."
Did I really just say that?
What kind of a mother am I?
They came up in two minutes ready to go.
Same day:
Brian:

"Have you had your cupcakes?"
Remember, he spent an hour driving to my favorite cupcake store to deliver the goods on Valentine's?
Me:

"

Yeah, I told the boys they could have one."
Brian:

"You're sharing?"
Me:

"MmmmHmmmm"
Brian:

"You're sharing?"
Me: reluctant to admit it,

"Yeah, I know....."
Brian:

"WOW! THAT'S Bloggable!"
What's he saying?
Okay. So sharing is NOT my forte!
And in case your think stupid/entertaining conversations just happen with members of my family -
Here are a couple with my friend and fellow Blogger Margaret from
Facts from a Factwoman
Margaret:

"Wait, why can't you do it? What browser are you using?"
Me: mumbling,

"EyOhElll."
Margaret:

"What? Why aren't you using...."
Me: cutting her off at the pass,

"Look, I'm behind. When Al Gore was inventing the internet, I was right there with him. The problem is - he moved on. I didn't."
And one more -
The phone rings.
Me:

"Hello?"
Maragaret:

"You know that thing where you had to fill in the thing?"
Me:

"What?"
Margaret:

"You know that thing you did and you had to answer that quiz?"
Me:

"What?"
Margaret:

"You know where you had to invite all your friends?"
Me:

"I didn't take any quiz."
Maragaret:

"And then at the end you had to enter your cell phone number and guess what? They charge your cell phone $10 a month."
Me:

"Yeah I didn't take any quiz."
Margaret:

"You didn't? It was an IQ test and then it didn't even work. That app doesn't even work. AND if you fill in your cell number, they charge you. Wait. So you didn't even get to the quiz. Wow, i took the whole IQ test. I guess we know who has a higher IQ- the person who didn't even take the quiz."
Me:

"Yeah - I'm putting you down on my "Stupid" conversation list."
Maragaret:

"Gee thanks!"
What are friends for?
I'm off to have some more entertaining conversations!